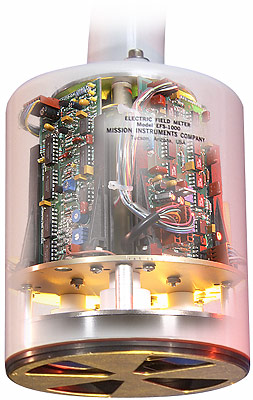 Mission Instruments Manufactures
Atmospheric Monitoring Instrumentation
Our products are designed and built to provide years of dependable performance in all industrial and commercial environments. Current Mission Instruments customers include mining and explosives manufacturing, munitions storage and manufacturing facilities, Dept. of Defense ordnance facilities, and other sites where preemptive warning of lightning allows for safe and orderly preparation prior to lightning occurrences.
We Feature:

•

Lightning Threat Warning Systems (LTWS)

•

Field Mill Sensors

•

Electric Field Monitors

•

Software and Accessories
We Also Provide:

•

Electronics Contract Engineering–Design, Engineering, Prototyping, Production

•

Lightning protection and strike counters for Radio Transmission Towers with State-of the-Art Grounding and Bonding Technologies by SAE, Inc. Grounding Systems. Please visit www.saeinc.com to learn more.